Latest News...
Call: 07551 909509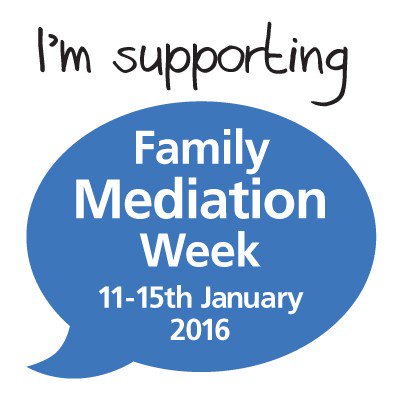 There is a better way
Every year, thousands of families are torn apart by bitter court battles. Relationships between separating parents are irretrievably broken, and all too often their children are caught up in the middle. 
But it doesn't have to be that way.
There is another way, a way that has helped many divorcing parents build a constructive future for their family, without a court imposing decisions on them. 
About family mediation
Family mediation puts you in control, with the help and support of highly trained professionals who can help you make decisions about your future.
Research shows that mediation is often the best way for families to resolve conflicts. It is proven to be faster, less costly and – crucially – less adversarial than divorcing through the courts. Unfortunately, too few people know about it, and end up locked in angry disputes that have far-reaching consequences for them, and for their children.
Family Mediation Week (11-15 January 2016)
11-15 January 2016 is Family Mediation Week. Organised by the Family Mediators Association (FMA), our aim is to raise awareness of mediation as an alternative to court battles for separating couples.
Mediation can help you take control of your own family's future, making constructive decisions together rather than asking someone else to decide what should happen to your children or your finances. We want to help and support people at the point of separation, and also let other people know that family mediation is an option they can suggest to friends or family members who are experiencing separation and don't know where to go for help.
Over the course of Family Mediation Week, we will be publishing information and resources to help more people understand that there is a better, more constructive option that puts children first and helps separating families create a brighter future.
Find out more
To receive more information about family mediation, how it works and how it can benefit separating families  www.thefma.co.uk or www.familymediationweek.org.uk.and find further information about this and parenting after parting on www.resolution.org.uk/divorceandparenting/
This year Nicolette Zarka successfully completed the Civil and Commercial Mediator training programme with ADR Group and holds the title Civil and Commercial Mediator.  Civil and commercial mediators often work with solicitors and their clients in mediation.  Some clients and their solicitors enquire from time to time as to whether Aurora family mediation can offer appointments with solicitors present.  This is not a service we offer routinely as we believe that couples often prefer to work out arrangements directly in the mediation session and have the opportunity to speak to their solicitors in between meetings if needed.  Sometimes solicitors come to a second or third mediation appointment with clients and this is a service we can offer.  Please speak to us about this model of mediation by calling us on 07551 909509 /01462 429735 or email info@aurorafamilymediation.com if you would like to hear more about this way of resolving your arrangements on separation in family mediation
The Children and Families Bill, currently going through parliament, is seeking for it to become law as opposed to procedural protocol for an Applicant in family proceedings concerning children to show that they have considered family mediation before going to court.  In practice, this means attending a mediation information and assessment meeting (MIAMS meeting). 
For couples, resolving disputes via family mediation could and should ensure a speedier and less expensive formal separation.  Ministry of Justice statistics show that the speed of agreeing terms for a separation where mediation is used is 110 days, compared with 435 days for agreements made without the help of mediation.  As for cost, according to the same statistics, the average cost of an agreement via mediation is £800 per couple, compared with £5000 per person without.  And of course, Legal Aid may have been cut for most family law cases, but it is still available for family mediation.
However, there are concerns from mediators that the new law will not actually have the desired result of keeping couples out of court.  In practice, only one party will have to attend a MIAMs meeting and the other party is still free not to explore mediation. 
Resolution carried out a survey in November last year showing that only half of the people they surveyed would consider mediation as a good alternative to going to court, and only a quarter believe that divorcing out of court would protect the rights of both parties.  Read the results of the survey here:  http://www.resolution.org.uk/news-list.asp?page_id=228&page=1&n_id=208
Many people, both separating couples and professionals in the legal and advice sectors, remain wary of family mediation being a suitable alternative to court.  At Aurora Family Mediation we are totally client focussed and see ourselves as an approachable service for solicitors and other professionals as well as clients to ask whatever practical questions they would like to about how we operate.  It is also really important to us that clients feel they have an idea of what to expect from our family mediation service.
At Aurora, we know family mediation works and we see the positive results week after week.  Please call us if you would like more information about family mediation on 07551 909509
Watch Resolution's video Divorcing or Separating: there is a better way here: http://www.resolution.org.uk/
March 2014
Aurora Family Mediation